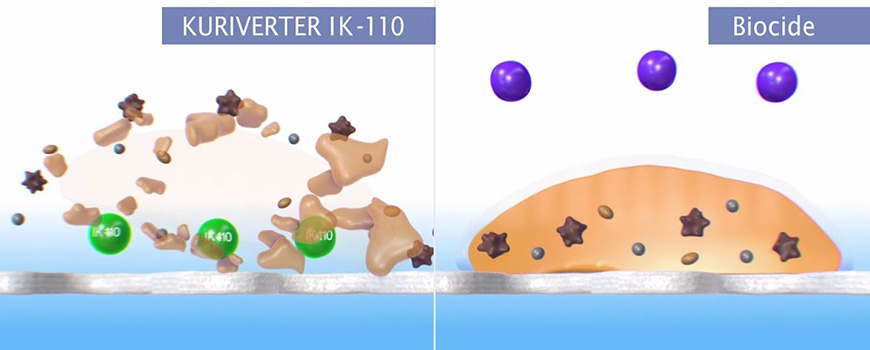 Biofouling is one of the most critical issues Reverse Osmosis (RO) systems are facing, especially in a system with high organic loads like wastewater recovery plants, seawater desalination plants or Food industry among others.

The continuous use of oxidation agents is not recommended and should be limited to the pretreatment of the water and retention tanks, avoiding that the chemical agents reach the processing area. The contact time of these chemicals with the water could not be enough to eliminate completely the organic load.

Kurita developed Kuriverter® IK-110, a biofilm control agent, which protects your plant from biological and biofilms impact on your pre-treatment system and the membranes it selves.

Kuriverter® IK-110, the excellent biofilm control agent, is added to the raw water tank in order to protect the whole RO system against biofouling formation with only one product. Kuriverter® IK-110 is compatible with membranes and it is accredited with compatibility letters from the most worldwide known membrane manufacture companies.

The concept of water treatment becomes simple and it has a direct impact in the reduction of the cleaning process and related costs for manpower, chemicals and standby times, leading to a reduction of the total cost of operation.
When applying Kuriverter® IK-110 the differential pressure decreases, the loss of flux is reduced, and salt rejection improves.
The excellent results are proven by RO membrane autopsies confirming a significant decrease of biofouling on the Reverse osmosis membrane by the use of the new biofilm control agent.

Benefits include :

Unique & patented technology
NSF listed
Reduces differential pressure across the membrane
Reduces pumping energy requirement
Restores and maintains permeate flow
Reduces CIP cleaning frequency
Reduces Total Cost of Operation

The new treatment can be considered as an effective way to suppress adhesion of microbes to the surface of RO membranes and to break away any adhering microbes and their metabolic products. Even in case of contaminated feed water and insufficient pre-treatment systems, the problem-solving ability of the new slime control agent is coming along without additional capital investment cost.

Kuriverter® IK-110 was developed in Kurita research centre to keep the reverse osmosis systems free of biofouling and extend the periods between CIP cleanings.

We encourage you to read our case studies about the successful applications of Kuriverter® IK-110 in different industries and learn more about Kurita RO solutions.